THAT'S WHAT I'M TALKIN' ABOUT! -Awakening in the Land of Human Beings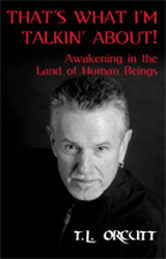 Trade Paperback: 138 pages
Publisher: Global Village Publishing
Date of Publication: 2006
ISBN-13: 9780962343469
ISBN-10: 0962343463

Publishers Description: Economic interests of corporatism favor the citizenry being kept in constant fear with the full cooperation of the alarmist media. As a result, the population becomes overwhelmed. Individuals have less time for knowledgeable participation in the political process. People generally end up trusting the corporate state to take care of exaggerated fears that sire confusion, anger, and criticism. Such fears dissipate optimism into destructive depression and inertia, imprison people in an emotional frenzy, and provoke a siege mentality that obscures awakening. And this book is all about awakening!

Awakening represents awareness in and of the present. Second, it requires discovering and directing a personal destiny and living this vision. Finally, awakening means working with congenial souls toward a world community and earth consciousness with the values of human freedom, cultural dignity, global integrity, respect for the planet, and a conscious sustainable co-evolution of society, culture, and nature.

From the Back Cover: Suitable for utilitarian purposes, the practical awareness of everyday life is nonetheless molded by a corporate state whose best economic interests favor keeping its citizens in a perpetual siege mentality that obscures conscious evolution. Awakening brakes the treadmill of craziness, engages the seeker's visionary destiny, and empowers a conscious observation of life's scenery as it naturally unfolds. This is what transforms doing into being, into a wisdom that survives bodily death.
James A. Cox, Editor-in-Chief
MIDWEST BOOK REVIEW
Small Press Bookwatch: April 2007

Zen psychotherapist and philosopher T. L. Orcutt presents That's What I'm Talkin' About: Awakening in the Land of Human Beings, a guide to resisting alarmist hype fed to today's citizenry to deliberately keep them in a state of fear, and keep them obedient to corporate interests. Stressing the importance of community, consciousness, and upholding the values of human freedom, cultural dignity, and respect for the planet, That's What I'm Talkin' About walks the reader through expanding one's awareness enough to accept the things that cannot be changed and apply courage to the things that can. Sound tidbits of practical advice are closely interwoven with the philosophical concepts, such as "Other than sexual relations, treat your husband as you would your best girlfriend, or treat your wife as you treat your best buddy. That will ground your life!" Strongly emphasizing spiritual integrity and the communal bond of all human souls, That's What I'm Talkin' About is an uplifting, motivational, and often quite practical book.
EXCERPTS

Drama will always be more seductive and luring than hanging out with God.

Our Achilles' heel is not only a blessing in disguise, it is the primary soul-lesson for us to transcend in this lifetime.

Highly responsible people act within boundaries that most of the time work for them in love, families, careers, and conventional religion. But sometimes these boundaries are tested. And they are tested most easily by the conditioned hungers of planet Earth. They are tested by sex, romance, drugs (illicit and prescribed), money, power, control, greed, revenge, and depression. Oh yeah, and by chocolate, bacon, donuts, and coffee.

Both the corporate state and its citizens live an ordinary life when not in touch with their soul.

Click on the title or image above to order directly from Amazon.Com.