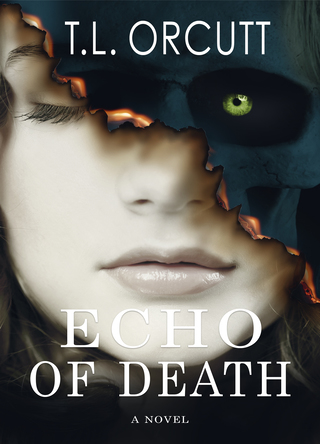 CLICK BOOKCOVER
TO ORDER ON AMAZON.
A wryly humorous story about evil ghost MANDY BLACKWOOD who haunts BILLY JAY LORD, an aberrant guy with an ordinary UPS job to keep his sanity in check from a nemesis of precognitive visions and seeing ghosts--a curse since his visions are mostly negative and he has trouble discriminating realities from previews of upcoming events--but he's working on it. In courting AVALON SUMMERS, a young Hooters waitress raised in poverty as a promiscuous Catholic in Las Vegas and an earlier club-friend of the wild psycho ghost, Mandy resorts to terrors against the people who harmed her in life. After seeking the advice of an old crone medium and a street diviner, Billy embarks on the services of an afterworld-sorcerer who teaches him the ways of astral flight and battle.
"It's time to give ghosts a chance at revenge. T.L.Orcutt brings the paranormal to sunny San Diego, CA with his latest novel Echo of Death, sure to leave your jaw on the floor for more than one reason….As the story begins, the reader is enveloped in a gripping story of paranormal activity. Orcutt blends the two worlds together in a way that feel both believable and truly terrifying."
—JOE WALTERS, INDEPENDENT BOOK REVIEW
"A super-cool story combining paranormal activity and psychic visions with some angry ghost action. Not your normal UPS driver, you'll want Billy Jay Lord to either be your boyfriend or best friend after reading this. A fun adventure that will keep you wondering what's next."
—KRISTI ELIZABETH, SAN FRANCISCO BOOK REVIEW
"Echo of Death's blend of paranormal and contemporary urban fantasy is refreshing and Orcutt has a knack for making his paranormal knowledge easily accessible….Echo of Death excels at building a paranormal mystery and using it to fuel an overall thought-provoking novel."
—THOMAS ANDERSON, LITERARY TITAN BOOK REVIEW
First Published: October, 2019
Publisher: BookLocker.com, Inc.
6 x 9 Paperback: Pages: 312
ISBN: 978-1-64438-983-6
Retail Price: $18.95