HOME - Official Website
Welcome to my playground and thanks for visiting.
My working world involves writing novels in the genres of urban fantasy, paranormal suspense, mystery, and quantum fiction--novels with themes of mysticism, consciousness, karma, reincarnation, past lives, mediumship, ghosts, witchcraft, magic, shamanism, divination, tarot, psychokinesis, precognition, and clairvoyance. Thanks to the readers of my novels. I appreciate your readership and devotion.
Now working on my seventh novel, about a former combat veteran who inadvertently runs into a hybrid alien with supernatural powers selected by a higher council to protect him for his karmic credits--seems he has been targeted by evil forces.
Below is the Newest Release, my first novel focused on crime and mystery with...of course, a dose of paranormal, this time a cranky clairvoyant who counsels a detective in solving an enigmatic death of an actress.
For previous novels click "NOVELS" on the Menu above, then click the Novel's Title to see the Featured Page for Details and Ordering Information. All the novels are available on Amazon, Barnes and Noble, BookLocker, and can be ordered through most bookstores in the world. Depending on the distributor or supplier, prices may vary.
CLICK THE BOOKCOVER BELOW TO ORDER ON AMAZON
NEW RELEASE - HUNTER OF ILLUSIONS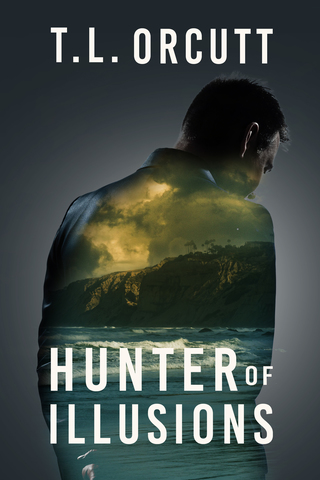 Detective Mateo Rodriquez of the San Diego Police Department is a crack-shot investigator, usually calm and lawfully shepherding the cozy beach village of La Jolla, California, but he has a problem. Late on a weekend night, Ned Cole reports his domestic partner, sultry film actress Catalina Braxton, missing from a luxurious party he is hosting at his beach home. The next morning lifeguards find her dead at the surf with her hands bound behind her back. Ruling out accidental downing her death appears like a homicide, but the toxicology report, coroner's examination, and police rule it as a suicide by default of corroborative evidence.
Local friends finger Jessie Vargas, ex-husband and the California Delegate in the Order of Delacroix, a quasi-military and philanthropic secret cult. But there are other contenders-the domestic partner, and a secret lover. Mateo's ace is Camila Ortega Vazquez-an old crone psychic who helps him with difficult cases, but this time even her visions are enigmatic and tedious.
As Mateo investigates acquaintances and suspects, bartender friend Ransom Craven arranges a blind date for him with Alina Kanerva-a rebellious Finnish nurse pregnant from an earlier boyfriend. Peril arises when the Order wounds Ransom and injures Alina to thwart the investigation. After Alina's birth of the baby, Rodriquez pushes plans for marriage but an elegant sea ceremony on a superyacht is shadowed by a terrorist attack. As the case cracks to an unpredictable conclusion, control yields to karma.
Publisher : Booklocker.com (May 20, 2021)
Language : English
Hardcover : 344 pages
ISBN-10 : 164719525X
ISBN-13 : 978-1647195250
Item Weight : 1.45 pounds
Dimensions : 6 x 0.94 x 9 inches
Genre: FICTION / Mystery & Detective, Crime, Paranormal Suspense