THE PATH OF RETURN TRILOGY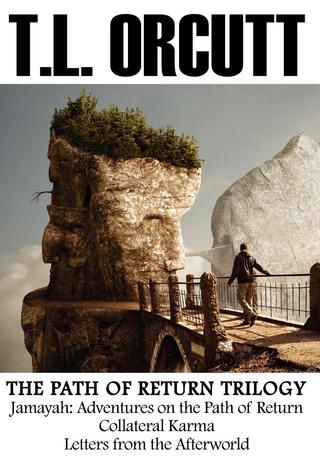 CLICK BOOK COVER TO ORDER ON AMAZON
THE PATH OF RETURN TRILOGY
The Path of Return Trilogy is a single hardcover edition comprising the three sequential novels in the Path of Return series: Jamayah: Adventures on the Path of Return, Collateral Karma, and Letters from the Afterworld, the third novel published for the first time in this edition. The series was written over a period of 21 years (1990 to 2011). Written from the first-person point of view through the protagonist, known by his alias Bob Kramer in the first novel, and Rickshaw Lubowski in the second and third novels, the genre of the work is paranormal fiction, suspense, psychological thriller, adventure fiction, and science fantasy.
JAMAYAH - ADVENTURES ON THE PATH OF RETURN
Set against the Aquarian optimism and affluence that dawned the new millennium in 1995 San Diego, JAMAYAH is an adventure marbleized with humor, and riveted by the mundane realities of war, street violence, and romantic sensuality. Already in mid-life crisis by a recent divorce and now unexpected termination from a lucrative career as a biochemist, baby-boomer Bob Kramer has difficulty reconciling Jamayah, an unlikely multicultural guru who mysteriously recruits him as an apprentice on a mystical path designed to transform the common perception of reality through three initiations: empowering paranormal abilities, neutralizing self-glorification, and realizing one's self as an immanent function of Spirit.
COLLATERAL KARMA
Collateral Karma opens as Rickshaw Lubowski (formerly Bob Kramer in Jamayah), has ditched the Path of Return in search of more tangible things - like sex, drugs, occultism, and sorcery. As a result, he falls victim to a curse cast by an evil leader of a ceremonial cult who practices ritual sex and black magick. Rickshaw's descent into the world of sensation and desire incurs mysterious nightmares all too real, starting with the obsessively expected death of his new fiancé. Rickshaw meets a blind fortuneteller who seems to know more about his destiny than anyone should. While fighting for his life and the life of his friends, our hero realizes all too late the negative karma of his ways. Only when he loses touch with reality does his mentor appear. Together, they join forces with shamanic sorcerers in an attempt to reverse the deadly curse.
LETTERS FROM THE AFTERWORLD
Letters from the Afterworld develops themes of soul essence, mediumship, automatic writing, astral projection, and reincarnation. Rickshaw attends a seance in Los Angeles conducted by a medium with a gift for automatic writing and receives a channeled letter for his friend Murdock. Murdock is on a soul recall list for people whose souls prematurely inhabited their selected bodies. As other friends of Rickshaw have dreams of the same recall letters and incur near fatal illnesses and accidents, Jamayah believes hybrid souls (who formerly incarnated on an alien planet), are abducting humans for enzymatic blood transfusions to extend their health and longevity. Stakes are raised when Rattlesnake Dan and Murdock are kidnapped and a ten year old boy is murdered. Finally, Rickshaw, Jamayah, SBL, Weird Willie, Raoul, Juan, Apollo, and Billy the Kid mobilize the Cosmic Rangers with the pledge of liberty and justice for all.

AFTERWORD
Special to The Path of Return Trilogy is the Afterword. The Afterword reveals occult symbolism that was instrumental for the writing of the series. In the novels, as in life, occult and esoteric traditions are taught through a series of initiations oriented toward paranormal mastery and cosmic awareness. In the odyssey of the trilogy, Jamayah (the mentor and deuteragonist) confers upon Rickshaw Lubowski (alias Bob Kramer) four initiations. Three are given in Jamayah: Adventures on the Path of Return and one in Collateral Karma.
JAMAYAH: ADVENTURES ON THE PATH OF RETURN
"T.L. Orcutt has woven a magnificent tapestry, one that is more like a web from which readers will find hard to escape until they finish the final and most expository chapter."
STANLEY KRIPPNER, CO-AUTHOR OF THE VOICE OF ROLLING THUNDER
"You will enjoy this tale of an ordinary guy discovering a world not so ordinary...Once you start this book, you won't be able to put it down, except occasionally to ponder the book's profound insights. Bravo!"
CATHERINE KITCHO, HOT LAVA! BOOK RREVIEWS
"Not since I discovered Carlos Castaneda years ago have I read a book so captivating and truth filled.
If you want to explore the outer limits of your potential, read this book. You will love it!"
DUNCAN SINGS-ALONE, AUTHOR OF STALKING NIRVANA
COLLATERAL KARMA
"Orcutt's hard-driving prose seductively plays to all readers' senses. The sequel Collateral Karma, as was the first, has all the elements of a great read, baring the dark side of sex, occultism, mystery, and sorcery,
as he spins a yarn of good versus evil. An absolute must-read for Orcutt fans."
THEODORE J. ALBASINI, AUTHOR OF THE PROGENY
"Collateral Karma is like the magnificent tale of a comet...You'll speed through the universe never knowing quite where your journey will take you…If you have a serious interest in the outer reaches of the world,
the paranormal, and the occult, this is a book that will pique your interest and widen your eyes."
DEB FOWLER, FEATHERED QUILL BOOK REVIEWS
LETTERS FROM THE AFTERWORLD
"The seance scene is wonderfully suspenseful and eerie with meddling and malevolent spirits, and messages from beyond the grave…Overall, Letters from the Afterworld provides a much more philosophical and potentially thought-provoking experience than your average occult adventure novel with plenty of action
that will engage the typical person who just reads for pleasure."
THOMAS ANDERSON, LITERARY TITAN BOOK REVIEWS